ICYMI: Brazilian Jiu-Jitsu in September 
Brazilian Jiu-Jitsu has well and truly arrived! With four bustling classes now running Monday – Thursday nights, covering both Gi and No-Gi practices. (Check out our timetable here.)
Under the guidance of Coach Icaro, each class includes a warm-up, fitness aspect and technique aspect, before finishing with a free rolling period. Similar to sparring, these free rolling periods allow the students to apply their knowledge and better their situational skills.
Already, our students have amassed an understanding of a wide range of techniques and submissions – from hip escapes, half and full guards and mount through to armbars, chokes and kimuras.
We're so pleased with the progress our students have made so far, and can't wait to see their continued progression in the future!
Keen to learn more about Brazilian Jiu-Jistu? Check out our library of resources here. Or come down and check out our classes in person!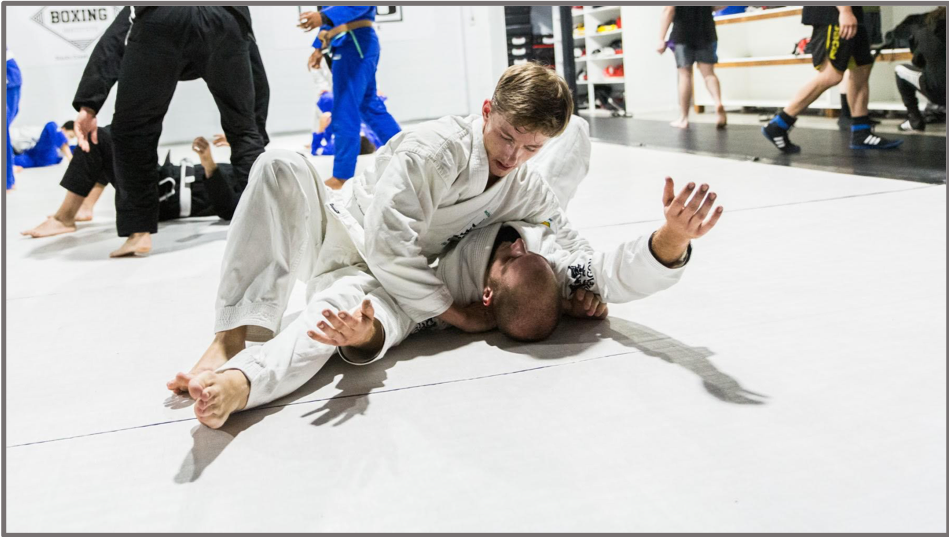 Hi! My Name Is…
We are excited to welcome to the Family our new Operations Manager, Jacquie! Here she is, giving us her best TFC sign. While there's some room for improvement, given she only started at the beginning of September, we'll give her a pass… for now.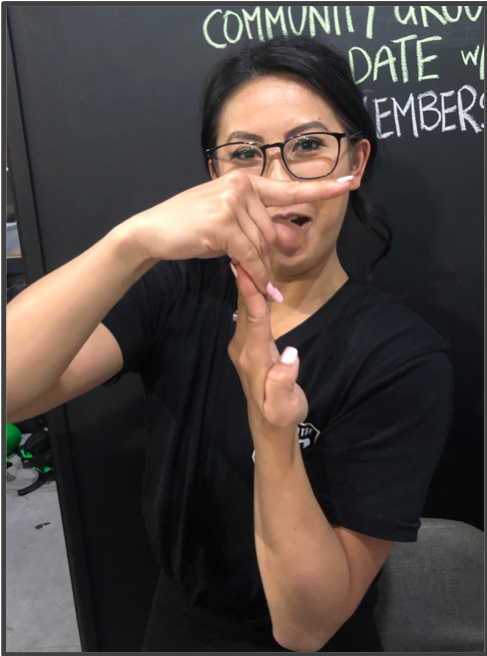 The term 'Operations Manager' covers a range of responsibilities – as Jacquie puts it:
  "I take care of all our members – helping to guide them, foster their growth and holding people accountable in order for them to achieve the goals, when joining the TFC Family. I help to create/implement procedures and new ideas in order for the business to grow and assist with maintaining a consistent and steady flow on a day to day basis! Aaaand I'm also an unofficial PA to Ben and Jarvie!"
But let's get to the really hard hitting questions we know you guys want to know – keep reading for our Q&A with Jacquie.
Q: We know your name, what's your story?
A: Jeez, my story is lengthy mannn! But in short, I'm a banana  (Asian on the outside, but white on the inside), a professional dancer and have recently discovered a big love for training Muay Thai and Boxing!
Q: Favourite quote or expression?
A: Happiness is only real when shared.
Q: Favourite musical act?
A: Me singing in the shower! But seriously, I love the Lion King Stage Production!
Q: Favourite food?
A: Ice cream and hot chips! Not together… unless they're from Maccas! I also love a cheeky pizza.
Q: Best memory or experience at TBI so far?
A: Being able to meet new people each day and create new friendships!
Q: What does TBI mean to you?
A: A bunch of hard working, dedicated, loyal and kickass legends who help each other to be the absolute best they can be and achieve their goals (and that I get to call my family) #oss 
Welcome Jacquie! Make sure to say 'hello' the next time you see her!
New Content Alert! Brazilian Jiu-Jitsu Edition
As always, a new month means new content! Check out our recap of what's dropped in September.
See Me Drippin'…
As the old saying goes, you have to dress for success.
Whether its Boxing, Muay Thai or Brazilian Jiu Jitsu, we are always striving to ensure we have you training gear needs covered.
As we continue to grow our Brazilian Jiu-Jitsu practice, we are excited to announce the launch of our TFC-branded rash guards. With a comfortable and quality fit, our rash guards make sure you're rolling with the best.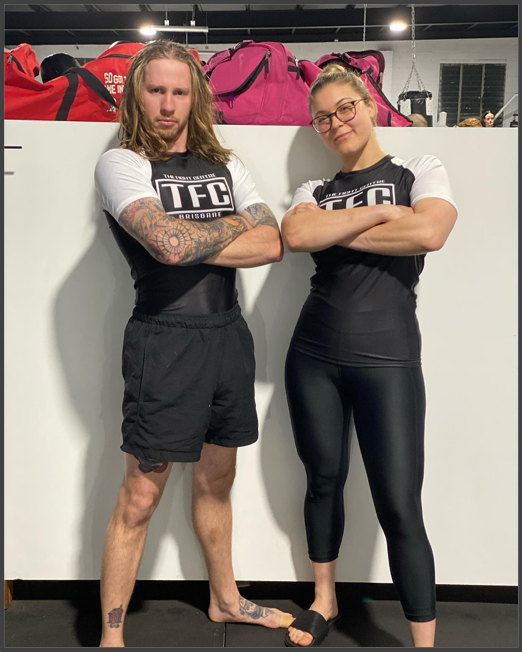 Grab yours at the Front Desk now!
5 Easy Steps to Creating Your Own Armbar!
Perhaps best known as Ronda Rousey's weapon of choice, the armbar is a valuable tool to keep in the toolbox. Both highly technical and highly entertaining, executing the perfect armbar comes with time and practice. And for the guys, maybe a few crushed grapes.
As part of our growing library of online resources, Coaches Icaro and Ben have created an online tutorial, sharing their insights on the armbar. Whether you're looking for an in-depth breakdown of how to execute an effective armbar or tips on how not to crush the family jewels, this video has something for everyone.
Check out the video here.
Fight Calendar
After a brief hiatus, we are very excited to announce our Fight Calendar has returned for 2020! Our Fighters have continued to train hard throughout the year, and can't wait to put on a show.
For ticketing or other enquiries, please see our Front Desk or speak to the relevant Fighter directly. Fight shows are subject to change so please keep an eye out on our Facebook and Instagram pages for any changes.
October:
24th: Harry "Daddy" Sheppard and Saxyn "The Sheriff" Pobjoy-Sheriff @ Destiny – Beenleigh Showgrounds, 38 – 44 James Street, Beenleigh 4207 (Muay Thai)
Our Fighters' truly value and appreciate your support – so please, show them some love!
Pro-tip: At the fights –
Make sure you're rocking your best TFC gear!

Always use the TFC Sign in all photos – use liberally, without discretion and make sure to teach your family and friends.

Tag @thefightcentre in all your photos!
Until next time, happy training!